Movements of pantropical spotted dolphins in Hawaiian waters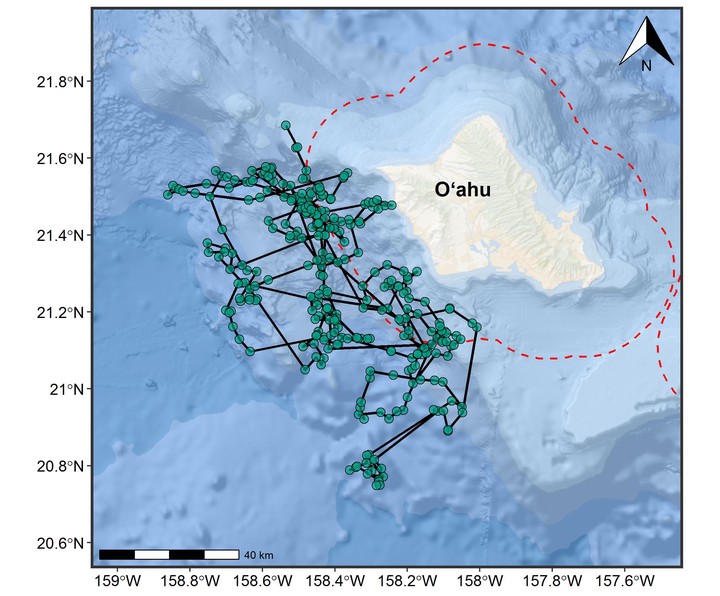 Four stocks of pantropical spotted dolphins are recognized in Hawaiian waters: 3 insular stocks (Oahu, Maui Nui//4-Islands, and Hawaii) and a pelagic stock. The 3 insular stocks describe populations that are resident to the insular regions of these islands, which has been supported by genetic, photo-identification, and satellite tagging studies. These stock boundaries were determined by using the greatest distance from shore that spotted dolphins were sampled in past genetic studies (Courbis et al. 2014), although the report describing stock boundaries noted that the boundaries of the insular stocks likely extend farther offshore than initial set (Oleson et al. 2013). Here we assessed satellite tag data deployed on pantropical spotted dolphins around the main Hawaiian Islands for residency patterns and movements in relation to stock structure and boundaries. In addition, we are applying hierarchical models to investigate drivers of diel patterns in spatial use (e.g., time of day, lunar phase) and behavior or move persistence.
Link to the original Pacific Science Review Group report: https://www.cascadiaresearch.org/files/publications/Baird-PSRG-2019-15-spotted_movements.pdf
References: Courbis et al. 2014. Multiple populations of pantropical spotted dolphins in Hawaiian waters. Journal of Heredity 105(5): 627-641. doi: https://doi.org/10.1093/jhered/esu046
Oleson et al. 2013. Island-associated stocks of odontocetes in the main Hawaiian Islands: a synthesis of available information to facilitate evaluation of stock structure. PIFSC Working Paper WP-13-003. Pacific Islands Fisheries Science Center.